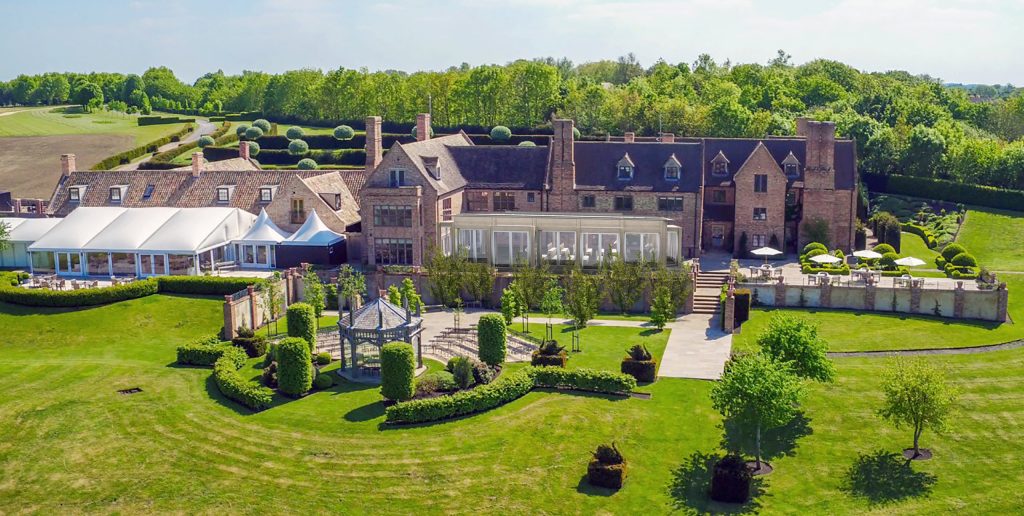 As a business we've been so fortunate, despite the closures and issues that Covid bought for our industry, we have come out of the other side in a better place than we were in before. This means we're embarking on lots of wonderful new projects throughout the house and grounds! The biggest project underway at the moment is our stunning Orangery. This really is set to be a showstopper with floor to ceiling oak framed glass, luxury fabric walls and views that are simply breath-taking we cannot wait for its completion.
This week saw the floor completed and the handmade oak leaf chandelier take its place in the centre of the room. The orangery will be an additional indoor ceremony option for our couples, as well as expanding the drinks reception area for our winter weddings. During the week and whilst we aren't hosting exclusive events, the Orangery will be Ely's unique fine dining option, with Cathedral views set in our impressive house and grounds.
Keep an eye on the website for the big reveal and follow our Facebook group @TheOrangeryEly to keep up to date with developments. We have already been inundated with enquiries for private smaller events to be held in there which is fantastic, we can't wait to welcome everyone. The views are amazing so we hope you will come and see for yourself.
The downstairs loos are also progressing well, these are the loos off our house bar and they're due to be completed at the same time as the Orangery. The flooring has gone down in here also and they're looking impressive.
The accessible path, including our new Harry Hare seat is now complete. This path gives access from the Cathedral Terrace to the lower Pavilion lawn. It's the perfect spot for some unique wedding day photos. Our Marquee bar is also almost complete. As well as looking very on trend we are also able to fit more pumps, including Guinness alongside all of our existing favourites! The finishing touch, an antique brass bar top, will be installed by the end of April.
The driveway has been refreshed with sone mew tarmac and the resin topper is also being applied, around the house which provides a sand coloured stone finish and looks incredible. With many of our couples wishing to get photos to the front of the house on their wedding day, this new topper will be so much nicer aesthetically without the difficulties gravel can pose to our ladies lovely heels on the day.
We're also delighted that spring brings the opportunity to spruce up the grounds. We've recently planted some beautiful pink blossomed magnolia trees above the new oak archway. These really are beautiful and one of many new spring blooms we're adding in. Our groundkeepers, Ben and Adrian are always looking to improve the grounds to suit each season perfectly and are always coming up with great new ideas.
Overall we're delighted with the progress on all of our projects and we hope you'll come and visit to see them all soon.