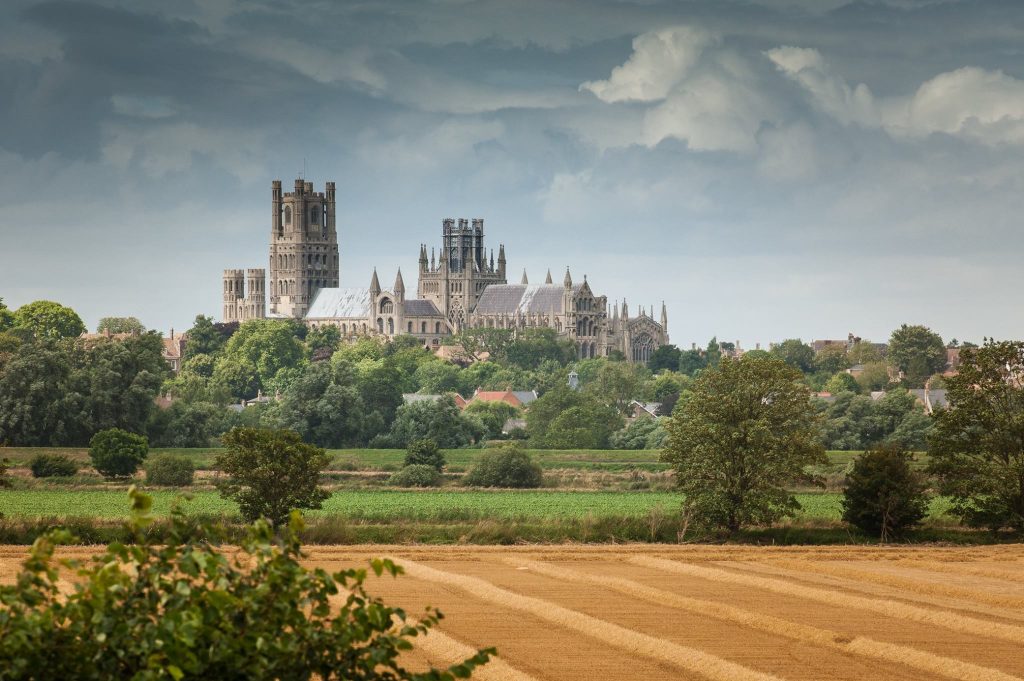 Small in size but not character…
Despite its accolade as the UK's 4th smallest city Ely is not short of activities, offering a variety suitable for every age, weather and lifestyle and we're perfectly placed for you to enjoy them all! Ely is just 80 miles from London (or just over an hour on the train) making it a perfect escape for those looking to experience the quaint country lifestyle for a truly unique and relaxing break.
The star attraction in Ely is of course the amazing Cathedral – which you'll be able to see from The Old Hall clearly over the unobstructed countryside views. The Cathedral boasts many impressive features, including the unique Octagon tower and Lady Chapel. You'll find references to the cathedral subtly throughout the house here, including our pavilion (where our couples can choose to say their I-do's) which mirrors the octagons amazing shape and of course our Octagon bedroom.
Oliver Cromwell's house is located on St Mary's street and also hosts the tourist information centre, Visit Ely where you can find out about all of the current attractions and events happening during your stay. You'll also be able to tour the 17th century house once occupied by the Lord Protector of the Commonwealth of England Scotland and Ireland after the defeat of King Charles I.
If history is your thing you can head over to the newly refurbished Ely museum, situated in the historic Bishops Gaol, tells the story of the Fens and the people who live here. From the warm Jurassic seas that once covered this region to the rich farmland we see today. We're also very lucky to have some amazing antiques shops, one by the waterside and one up on St Mary's street, so you'll be able to take home your own little piece of history.
Art lovers will also find plenty to do, The Ely Stained glass museum is a hidden treasure within Ely Cathedral. An independent museum, uniquely dedicated to the art of stained glass. Whilst the Babylon gallery located in the former brewery warehouse on Ely's Waterside. It's a contemporary art gallery with regularly changing exhibitions throughout the year.
Shopping in Ely is delightful, with a selection of boutique, independent shops and craft stores down little alleys and dotted throughout the city's streets. You'll also find a few bigger brands off the market square and if you're staying on Thursday, Saturday or Sunday the market is certainly not to be missed. From the farmers market to the traditional Saturday market there's always a treasure to find.  Cambridge is around 25minutes on the train or half an hour drive and Newmarket around 25minutes drive where you can find everything you'd possibly need.
With this amount of countryside you're sure to want to take a walk or two and get some fresh fenland air. You don't need to look further than our grounds to find plenty of opportunities to get your boots dirty, you'll love walking around our picturesque lakes and enjoying the cathedral and countryside views. Alongside many other fantastic walks, the National Trust site at Wicken Fen, around 10minutes drive away, offers boardwalks, windmills and a variety of wildlife and nature hides to appreciate all the species that have their habitat there.
Another option for those looking for something a little different is a boat trip down the Great Ouse on the Liberty Belle which is operating from the first weekend in March until the end of October. It's the perfect way to see the city from a different perspective. Whilst you're down there make the most of Ely's waterfront. You can enjoy afternoon tea at Peacocks tearooms, stroll along to pocket park or enjoy a drink at one of the lovely bars.
This is just a short summary of our local attractions, if you'd like to find out more or have your heart set on something specific don't hesitate to talk to our friendly team who can help you with your plans and make your stay one to remember.