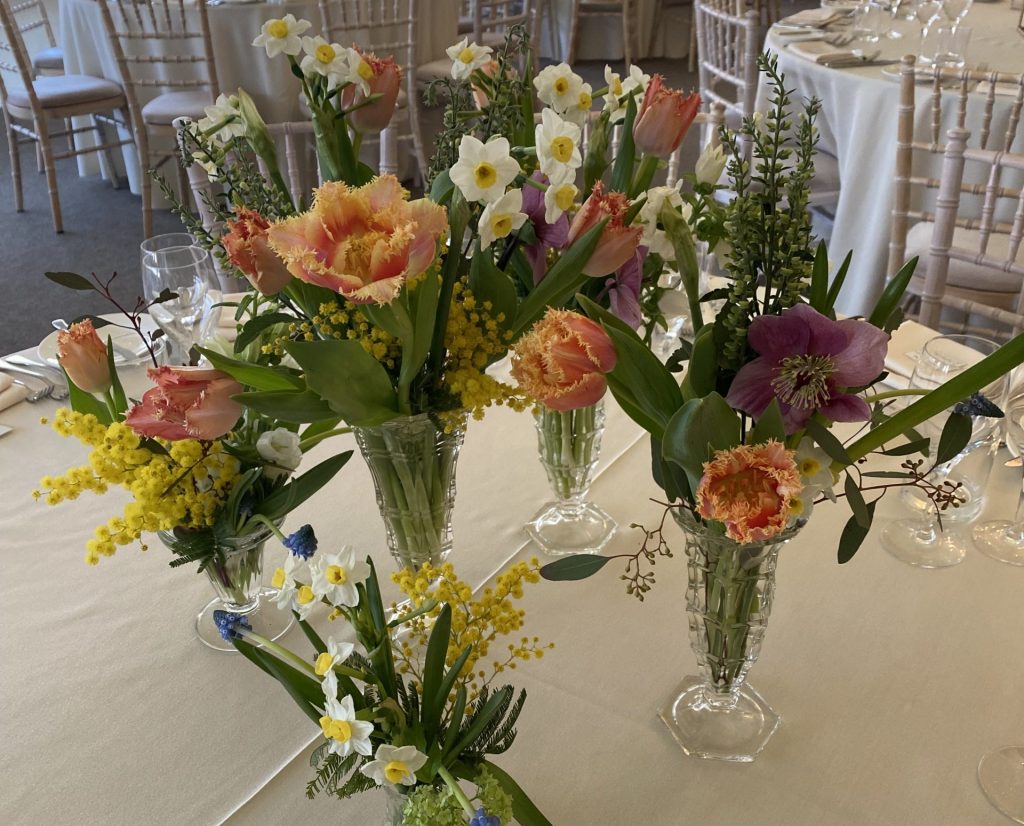 March means one thing for us here at The Old Hall, it's the start of spring and we're excited to see this seasons couples embrace all that it has to offer! From pastel pallets to seasonal flowers and budding blooms. Spring brings with it longer days, warmer weather and glorious sunsets and we love watching all of our couples fully embrace it all.
Weather in spring can still be somewhat unpredictable, so we advise all of our couples to plan for the worst but embrace the best. If wet weather (which is lucky on your wedding day apparently) comes along, it's really easy to make the most of all the spaces here, with loads of options to adorn the venue with flowers bringing the outside in, or enjoy roaring fires if the weather requires. Our Main Hall is a stunning mixture of oak beams and warm colours and always looks at its best with the spring sunshine creeping through the wide windows at the front.
One of the best features of The Old Hall is its ability to be beautiful regardless of the weather, with cosy nooks and open spaces giving loads of opportunities for great photos, all framed by mullioned windows or oak beams. Rain or sunshine venturing out for photos is a must, so grab that umbrella and make the most of all the spaces, colours and spring sunshine. The beautiful exterior colours of the Old Hall are always highlighted by a spot of rain.
Spring brings with it the opportunity for outdoor ceremonies to recommence, if you're lucky enough to get a clear sky and say your vows in our pavilion, you'll have the benefit of fresh green colours adorned with snowdrops and daffodils. The warmer days mean many of our couples opt for garden games to entertain their guests (if the forecast doesn't hold out we can usually bring these inside, space permitting) making the most of every space available.
One of the ways our couples opt to put that spring stamp on their wedding is tailoring their reception drinks to suit their theme, from fresh G&T's to floral cocktails it's always something to get guests talking. Our bar team are always happy to work together with our couples to make something special.
Our marquee is an amazingly versatile area, and watching each couple turn their blank canvas into a unique space all of their own is always interesting to us. Tall centrepieces with floral displays or candlelit foliage are always springtime favourites, taking the place of the dried flowers of autumn. With night's drawing out our couples and their guests can enjoy their drinks on the terrace and enjoy the cathedral views that little while longer before returning inside to dance the night away.
If you're planning a spring wedding or would like some more information, call our team on 01353 663275.