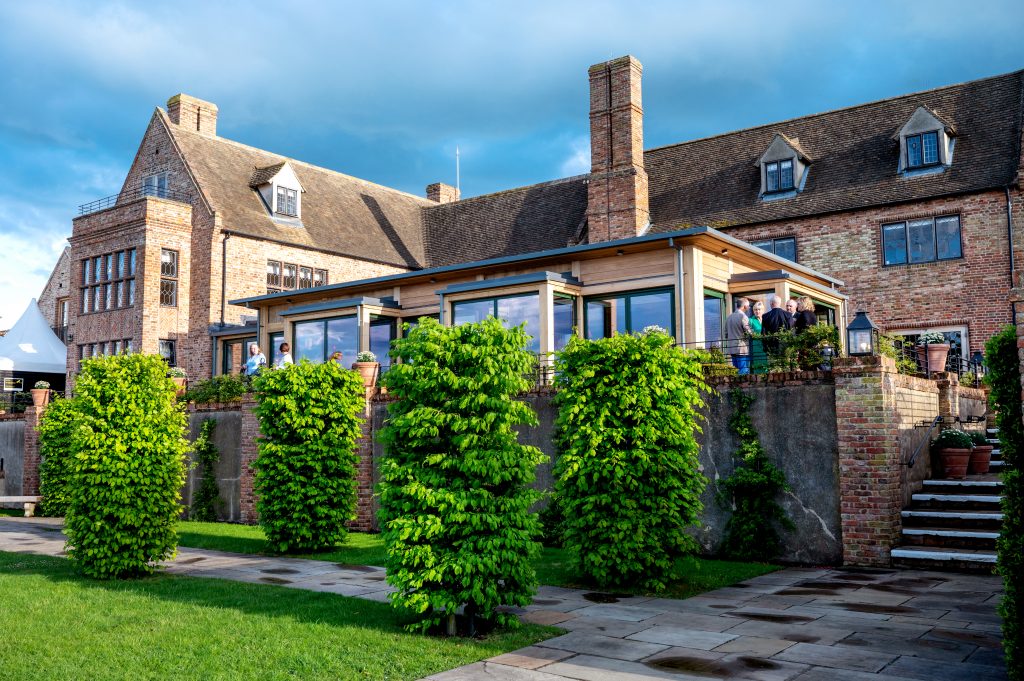 The Old Hall Ely Extends Jacobean Country Hotel and Events Venue with the addition of Orangery Restaurant and Event Space
11 May 2022
Local business The Old Hall Ely has recently completed building work on its Orangery
The work is part of a series of improvements to The Old Hall, offering couples an alternative location to say their vows and increasing capacity for afternoon tea, Sunday lunches and evening meals, alongside the ability to host as an out of office corporate workspace
The completion of the Orangery will create local jobs and increase tourism to the area
This Wednesday, The Old Hall Ely (Cambridgeshire) held an opening event at their newly constructed Orangery, an expansion of their Jacobean house, which offers an exclusive wedding and events venue, hotel and fine dining restaurant.
The Orangery, for which plans were approved in March 2020, blends seamlessly with the beauty of the existing building, being predominantly made of glass framed by English oak. Whilst the build has taken slightly longer than anticipated, due mainly to the Covid 19 pandemic, it has very much been worth the wait, as explained by Alison Morbey, Owner and project leader at The Old Hall;
'We're so excited that our Orangery is now completed, with it we've made a selection of other improvements, including extending our downstairs cloakrooms and creating a new, disability access path from the front of the house to our terraces and pavilion area.
We hope that the addition of the Orangery will give our wedding couples extra choices about where to say their vows, as well as providing an alternative event space for parties and celebrations. Every part of the house is special in its own way, but unobstructed Cathedral views really do give our Orangery something unique. We're also excited to use the space to expand our availability for Sunday lunches and afternoon teas.
Alongside this, we're very aware that many offices have closed their doors in favour of home-working since the pandemic and the Orangery will give us an opportunity for us to offer an exclusive, alternative corporate space for use by businesses.
This extra availability and opportunity to further diversify has allowed us to increase our staff, creating additional jobs, further supporting our community.'
Every part of the Orangery has been designed exquisitely by Alison herself, it boasts fabric lined walls to enhance the acoustics, with a bespoke handcrafted oak lead chandelier and the sofas have been designed to accommodate privacy and comfort. Alongside all of the wonderful features, the most spectacular feature of the space remains the floor to ceiling windows, framing the unobstructed countryside and Cathedral views.
Since the pandemic, The Old Hall have increased their offering to include reservation only evening dinners, afternoon teas, Sunday lunches and breakfasts to both guests and non-residents. They hope the addition of the Orangery will increase the availability of these, giving more choice locally and boosting visitors to the area. Billy Balaam, Head Chef adds;
'We're delighted to be opening the new Orangery. The floor to ceiling glass gives an impressive view of the Cathedral and we're excited to offer a menu to match. We'll feature heritage favourites, modern takes and a constantly changing selection of dishes. British staples such as guinea fowl or spring lamb will star alongside enhanced traditional sides like our liquorice baked leeks.
Our breakfasts are a great start to any day with a fresh buffet available alongside our cooked to order menu. Afternoon teas here are always delicious, our cakes and sweet treats are all made in house. Our carrot cake is a show stopper, it's made from a traditional family recipe is second to none. We keep our afternoon teas fresh and seasonal to give our guests variety. We hope to welcome you soon.'
All dining at the old hall is exclusively reservation only and guests are encouraged to enjoy the house and grounds on their visit. Please check the 'what's on' section of the website for dining availability www.theoldhallely.co.uk.
ENDS
The Morbey family have owned The Old Hall since the 1830's with each generation adding their own unique character to the property. Alison Morbey, the current generation, diversified The Old Hall in 2010, to offer couples and their guests' luxury accommodation and varied dining options. Alongside this, the Old Hall is an 'Exclusive Use' amazing venue that can be booked in its entirety for weddings, Christmas celebrations and private dinner parties. For more information please visit www.theoldhallely.co.uk.
For further information and photography please contact:
Lucy Jex
Via email – Marketing@theoldhallely.co.uk
Via phone – 01353 663275